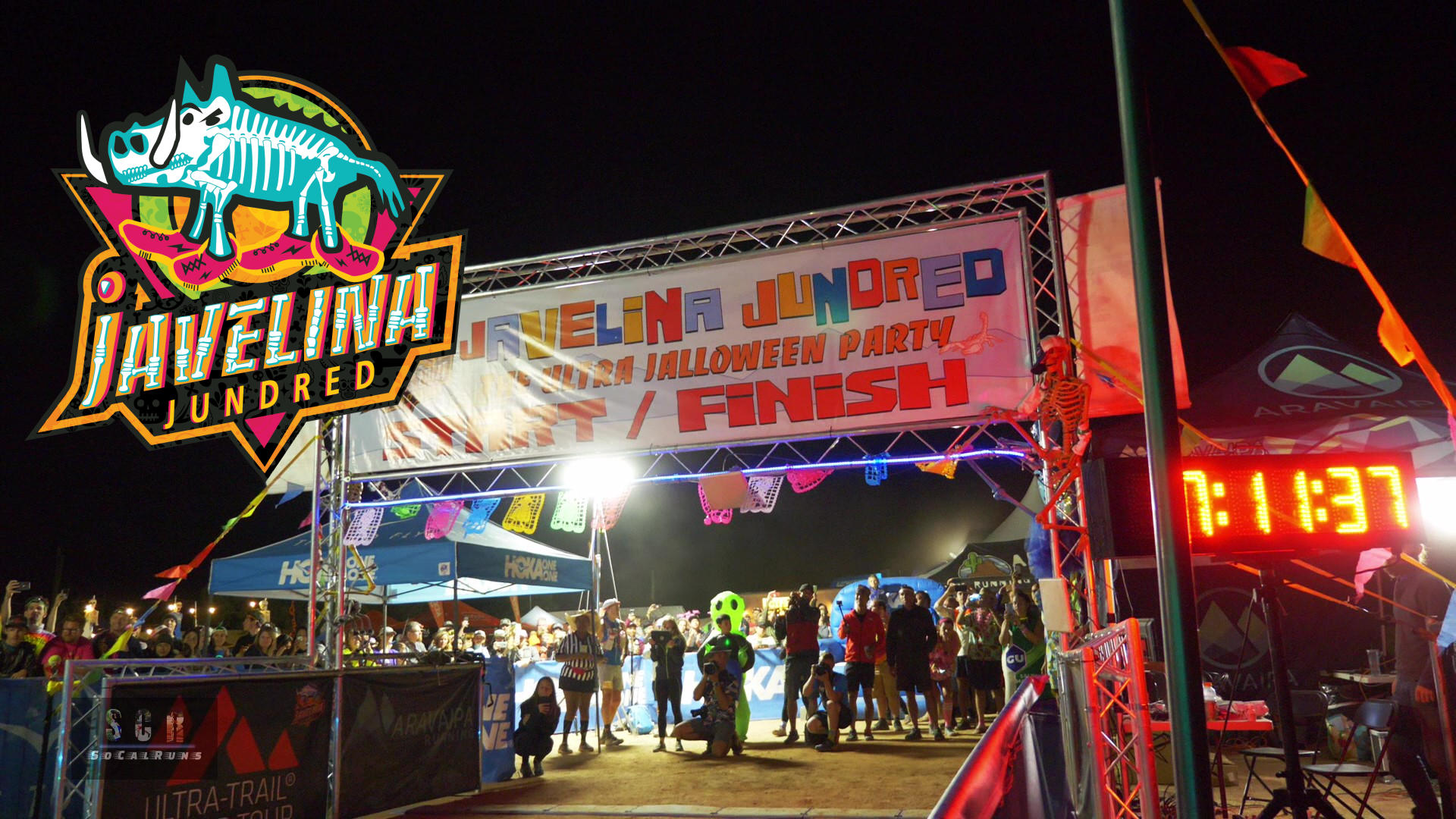 Overnight to the Desert
"Sally wants me to pace her"
This year's Javelina Jundred wasn't planned, but i'm so glad things came together just right and we got to experience this crazy race!
A surprise, last minute invitation to pace one of the premier runners in the field is what motivated us to make the trip and so, after a bit of juggling schedules, we decided to head out to Arizona.
The "Sally" she was due to pace was Sally Mcrea, Nike athlete and all around bad-ass woman, and one of the primary reasons she had even gotten into trail running. Needless to say, I knew she would be fully concentrated and in her zone, making sure she was fully focused on letting Sally to run at peak performance. So I made plans to set out and scope out spots to set up and film once we arrived.
After hearing so much about the race and knowing the great racers that would be competing, I was excited to film this one of a kind event! I was so excited that I didn't think twice about having to drive overnight to get there, or that I would have to turn back around to be back home by Sunday morning. Adrenaline and caffeine would keep me fueled up and awake, I told myself…
Soon after the call inviting us to go, I was gathering up our camping equipment and supplies, checking out the car, cleaning my cameras and gear, and printing out maps. We both had commitments that would prevent us from leaving any earlier than Friday evening. With the race set to start early Saturday morning, we had to get as much organized and set to as early as possible. I was glad we had taken the time to leave our gear in ready to go condition, so by the time she verified that we were heading out our gear was ready to go as well.
Javelina Party
Javelina had been on my radar for a while now as a race I would like to attend. It was in nearby AZ, always had great runners competing, Aravaipa Running is known for putting on amazing events, and Jubilee Paige & Jamil Coury had tremendous respect in the trail running community, so it was a no brainer to want to go.
The 17th Annual Javelina Jundred took place October 26-27, 2019 and is based out of McDowell Mountain Regional Park north of Fountain Hills, Arizona. This beautiful recreation area is just outside of Phoenix and is near a main road, making getting there and finding it a breeze, even in the dark. Soon after entering, though, you feel completely lost, enveloped by the desert, the open sky and views of the horizon flanked by hills and mountain silhouettes.
We arrived about an hour before start time
The last few miles before arriving had been a bit rough, sleep deprivation had finally sunk in its teeth, and I had downed an energy drink plus a double shot Red Eye from Starbucks to get me through it.
Well, by the time we arrived I was still pretty wired, so instead of taking a nap and sleeping a bit, I decided to go out and start filming.
Even from the overflow parking lot about a quarter mile away, you could already hear the driving techno beat blasting, incongruous in the otherwise still landscape. The beat, and the caffeine still running through my system but a little speed in my step and I quickly arrived at party central in the desert!
There were rows and rows of cars, then motor homes, then tents, then canopies, then lots and lots of runners.
The crowd, milling around, chatting, greeting old friends was being hyped up at the start line by Race Director Jubilee Paige and the vibe was upbeat and excited, anticipating great racing from big names like Patrick Reagan and Kaci Lickteig.
The race is comprised of roughly 22 mile loops using the trails surrounding the park. There are other aid stations out in the desert, but as a spectator, you can spend your entire day watching runners come in to Javelina Headquarters. There is a food court area where you can get coffee in the morning or other drinks all day long and find plenty of food options as well. The pizza from Freak Brothers Pizza is not to be missed and I took home some Papago Orange Blossom Beer, it was too good to pass up!
Sponsors do a great job as well of setting up canopies, handing out samples and answering product questions, giving everyone plenty of options to kill a bit of time while you wait for your runner to come in.

Hoka One One has to be given a special shout out for the area they decked out for everyone to hang. They set up a stage area with plenty of seating, lounging and shade space.

Race Starts, Caffeine Fades
There was so much to see and film that I didn't realize I was coming down from my caffeine high and was about to crash.
I had made the trip back and forth from Javalina Headquarters to the the overflow parking lot a few times to crash in the car for a bit and raid the cooler, each time feeling just a bit more tired until I realized I was close to running on empty.
Luckily, I had saved a beer and a slice of pizza for an energy boost and was able to fight off the fatigue for a bit longer.
Patrick Reagan Owns Javelina
I made it back in time to see Patrick Reagan storm in to the finish line well ahead of his nearest competitor to claim his third straight Javelina Jundred 100 Mile Race victory. His winning time of 13:11:48 was just minutes off his course record pace, he's got something figured out there in the desert.
After Patrick receive the great welcome he deserved and did a round of pictures and interviews, the crowd quieted a bit as they anticipated the next runner coming through. I had a huge burst of adrenaline filming Parick as he approached the finish line, making sure I was getting the right shots.
That adrenaline was now draining away taking the last bit of energy I had with it. I looked around to tell Emma that I was heading back to the car to take a quick nap. I knew I would possibly miss the next couple runners come in to finish, but I would sacrifice that to rest and be back in time to see the top female finisher come in to Javalina Jundred Headquarters.
And so I set off back to the car, figuring I would rest for about an hour, then make my way back to the finish line again.
I vaguely remember looking at my phone and considering setting an alarm before I closed my eyes.
Two plus hours later a car door slamming next to me startled me awake…for about ten seconds before I drifted back to sleep again. I missed Kaci Lickteig in her epic fourth place overall finish, I didn't see Camelia Mayfield's gutsty 6th place overall finish.
So maybe Javalina Jundred was not the pinnacle of my short videography career, but it was a great lesson in knowing your body's limits.
Post Javelina Crash
I did, eventually wake back up. Sally and she had just made it across the finish line as I was crawling back out of the car, trying to gather up the energy to head back to Javelina Headquarters. She had made up some ground on her last two loops and finished a strong 5th Female, 13th overall!
I found her, tired but glowing with excitement over her night in the desert. I was upset and a little embarrassed of myself for not being able to stay awake to fully document the event, but in the end, standing there at 2am, watching a few runners come in, chatting with volunteers on the way out, bathing in the artificial lights and disco beats in the desert, I was also incredibly happy to have experienced this crazy party in the desert at all!
Be back next year, and I promise to stay awake next time!