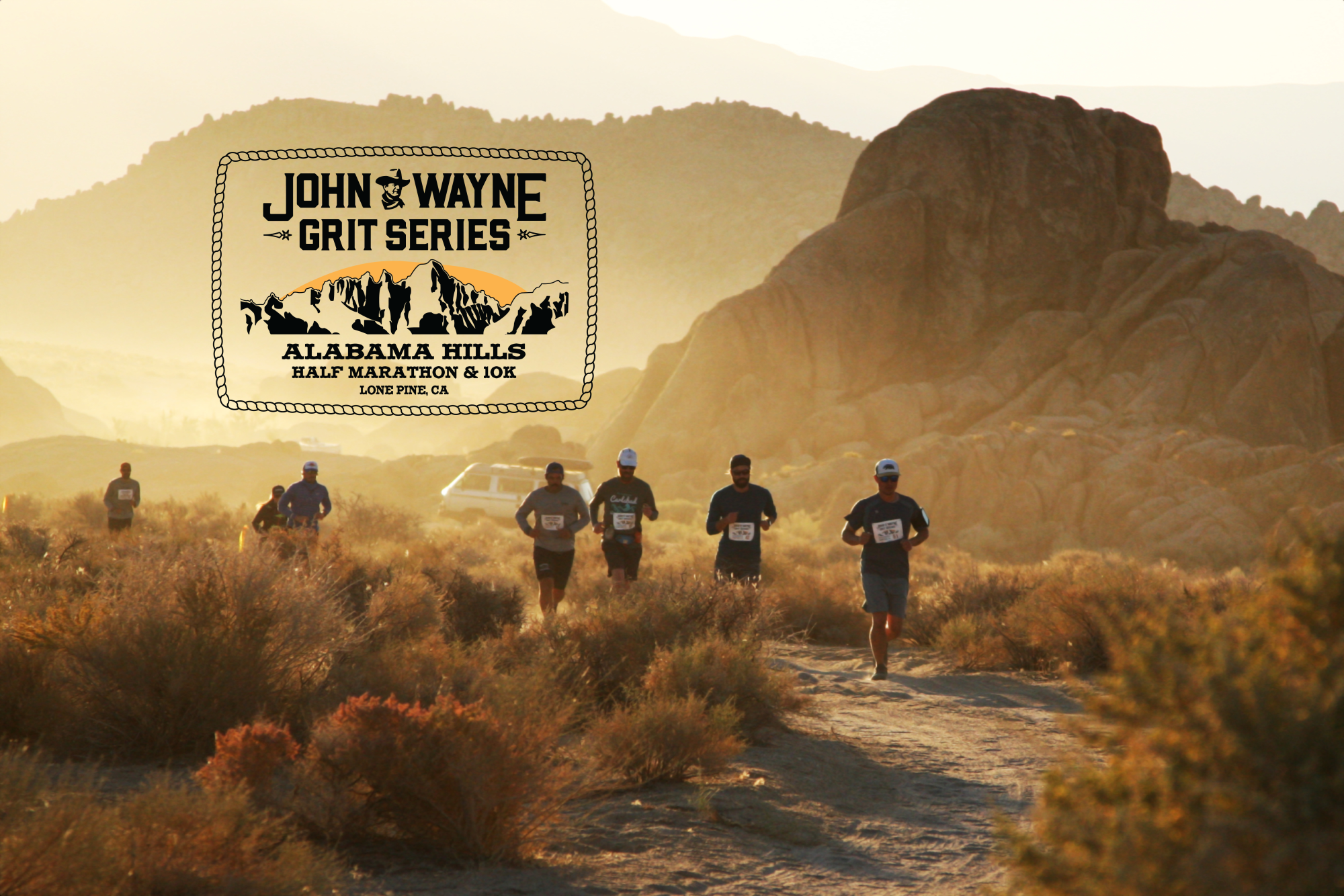 Half Marathon and 10K Trailruns
The inaugural John Wayne Grit Series Trail races took place in the ruggedly beautiful Alabama Hills. These wind shaped hills are stunning in person, and instantly familiar to many film buffs, due to the more than 400 movies having been filmed in the area.
The Alabama Hills are also at the base of Mt. Whitney, the highest peak in the lower 48 states. The stunning backdrop of the eastern sierras is ever present as you run through the hollowed out canyons and passes in the Hills.
The race includes many of the iconic sights, including the Mobius Arch. Check out the map on the right for details on that section of trail and other trails nearby. *Please note that this is not a race map.
The Alabama Hills and Lone Pine
The location and the trails would be reason enough for most to come out here to participate, but many come out here in support of the John Wayne Cancer Foundation and the work they do to fight against skin cancer. They are here as survivors and to support those still fighting, which all make this a very special race.
In fact, it is fitting that a race like this takes place where so many find inspiration, both to create and to overcome.
Molly Kassouf is organizing a great new trail race with a great cause, the Alabama Hills Half Marathon & 10K benefits John Wayne Cancer Foundation, so every step you take helps advance the fight against cancer through pioneering cancer research and programs. Run or walk in honor of family and friends who have been affected by cancer. Your registration and fundraising efforts make it possible for the John Wayne Cancer Foundation to fund novel and innovative programs that improve cancer patients' outcomes and save lives through research, education, awareness and support.
Run or hike dirt roads and winding trails with views of iconic Mt. Whitney, the tallest mountain in the contiguous U.S.
Be transported back in time to the historic wild west in the Alabama Hills near Lone Pine, CA. This area has breathtaking rugged western terrain including natural arches, blue skies and snow packed peaks. The course also passes through many John Wayne movie locations like How the West Was Won and more!